Home > Learn More > The Age Martial Art Masters Started Training
Why Do YOU Want to Start Martial Arts?
"I want to learn to defend myself!"
"I want to get in shape!"
"I want to improve my mental focus!"
Get Started Today!
Fitness • Focus • Self-Defense
(734) 720-0330
The Age Martial Art Masters Started Training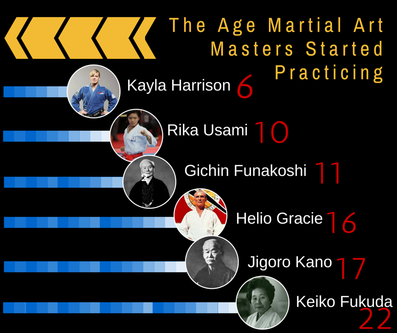 A short infograph on martial artists.
Toshihiko Koga - 6
Judo Olympic champion.


Kayla Harrison - 6
Olympic gold medalist 2012.


Bruce Lee - 8
Martial arts film star and master.


Chojun Miyagi - 9
Goju-ru Karate founder - blended Okinawan and Chinese styles.


Masahiko Kimura - 9
An arm lock is named after him because he broke Helio Gracie's arm. Judo master.


Rika Usami - 10
Female Karate kata champion.


Gichin Funakoshi - 11
Founder of Shotokan Karate


Ronda Rousey - 11
First US woman to earn Olympic medal in Judo 2008. UFC Champion.


AnnMaria De Mars - 12
First American to win at the World Judo Championships 1984 and Rousey's mom.


Helio Gracie - 16
Founder of Brazilian Jiu Jitsu.


Jigoro Kano - 17
Founder of Judo.


Keiko Fukuda - 22
Highest-ranked female judoka in history